| | | | |
| --- | --- | --- | --- |
| Name: | Bitplay Club | Restricted countries: | None |
| URL: | https://bitplay.club | Personal details required: | Email |
| Established: | 2017 | Mobile friendly: | Yes |
| Deposit methods: | Bitcoin, Altcoins (via Changelly), VISA, MasterCard | Casino software: | N/A |
| Withdrawal methods: | Bitcoin | License: | Curacao |
| Currencies: | Bitcoin, Altcoins through Changelly, USD | Live chat: | Yes |
General information
The most popular lotteries in the world include the US Powerball, Mega Millions, EuroMillions, EuroJackpot and SuperEna Lotto. Besides huge jackpots they also have something else in common: they are not transparent and can't prove that they operate fair. Bitplay Club, a new player on the international lottery market, is trying to change that by focusing on honesty and transparancy. The site launched in 2018 and has a clean look and feel as shown in this screenshot of their homepage:

To create an account with Bitplay Club you have to enter your email address and create a unique password. Once you have confirmed your email address you can deposit using Bitcoin or one of the many altcoins which are accepted on Bitplay Club. For accepting altcoins the site uses the Changelly exchange service which unfortunately comes up with some hefty fees. Recently the site also started to accept VISA and MasterCard deposits, so if you are new to crypto or just fancy easy credit card deposits the site is providing you with that opportunity as well.
If you face issues while making a deposit or while doing anything else on the website the live chat is there to assist you and our experience with the support staff is excellent. Quick replies and reliable answers is what you want with live chat and the guys and girls from Bitplay Club support definitely provide that!
Bitplay Club lottery
Bitplay Club currently offers two daily lotteries and after a brief talk with the Bitplay Club management they told us that they are currently in the process of testing a roulette game as well.
5-36 lottery
The rules to the 5-36 lottery are easy. Pick 5 numbers from 1 – 36, select the amount of draws you want to participate in and await the draw which is held once a day and starts at 10:00 UTC. The more matching numbers you pick, the more money you earn!
Rewards for winning tickets are fixed and the number order doesn't matter. Bitplay Club currently uses the following prize table for the 5-36 lottery:
2 matching numbers: 0.00005 BTC
3 matching numbers: 0.0005 BTC
4 matching numbers: 0.005 BTC
5 matching numbers: Jackpot! (Jackpot odds: 1:376992)
6-45 lottery
The rules for the 6-45 lottery are exactly the same with the only two differences being the amount of numbers you pick and the prize table. As the name suggest this time you pick 6 numbers from 1 – 45, corresponding jackpot odds are 1:8145060. The changes to the prize table are a bit harder to understand, but matches the desire of Bitplay Club to be totally transparant: 60% of the total ticket sales goes to the draw prize pool and Jackpot while 40% goes to the service management, referral rewards, marketing/promotion of the project. This to ensure a further increase in ticket sales and more interesting games and jackpots in the future. From the 60% of total ticket sales 30% is used to increase the jackpot. Once that is done payments to Group A winners are paid and the rest is considered to be as 100% and is divided into Groups B, C and D:
Group A – 2 matching numbers – 0.0001 BTC
Group B – 3 matching numbers – 25%
Group C – 4 matching numbers – 33%
Group D – 5 matching numbers – 42%
Group E – 6 matching numbers – Jackpot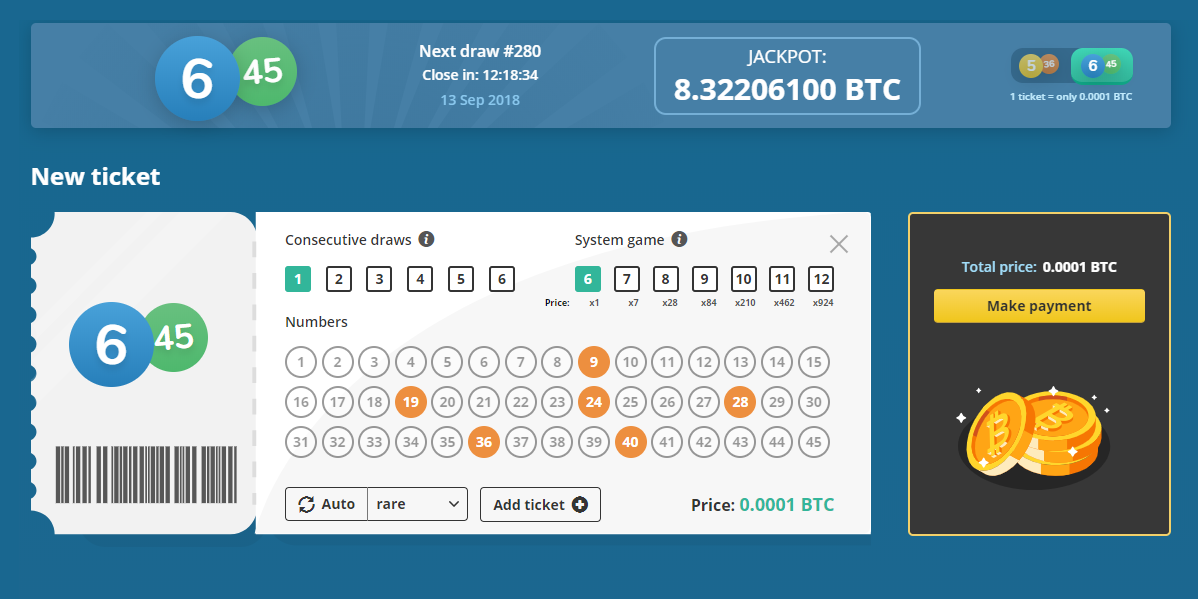 Bitplay Club Promotions
Bitplay Club currently doesn't feature any promotions for new or existing players. Once that changes we will update this part of our review accordingly.
Security and Fairness
Bitplay Club uses security features which include SSL and two factor authentication. However, their unique selling point is the provably fairness of their lottery. What that means is that there is absolutely zero chance of the lottery being rigged. The website uses an open source algorithm for getting draw results which takes the details of a certain block found on the Bitcoin blockchain and calculates a drawn number based on that information. If you are able to read computer code you can even look into the code yourself to ensure the formula is working correctly and the owners of the website are unable to rig the draw results. If you are not able to read code yourself we can tell you that we checked it ourselves and haven't found errors in the formula.