Bitcoin dice games are by far the most popular Bitcoin powered casino game available online. The game is simple, you enter in a bet, select a payout or win chance and hit roll dice. After you click roll a provably fair dice roll is generated. If the number falls within your win region you win your bet.
Two of the most popular Bitcoin dice gambling sites are Bitsler and Primedice. If you want to know more about one of these two sites be sure to read on!
Bitsler
Bitsler (https://www.bitsler.com) is a very popular Bitcoin gambling website which revolves around the famous dice game. The website works perfectly on all devices and is well-known for it's very simple and intuitive interface. Simply visit the website, enter a username and deposit cryptocurrency and you are all set to start playing.
Instant deposit
Bitsler accepts Bitcoin, Ethereum, Litecoin, Dogecoin and Burst. Deposits are immediately credited to your balance, because 0 confirmation is necessary to play with your deposit.
Provably fair
Every game (In addition to Dice Bitsler also offers Roulette, Multicolor and Cara y Cruz) can be verified mathematically, which means it would be impossible for Bitsler to choose the numbers for you to lose. You have the option to verify that the results of your game are honest.
Social & fun
Btisler offers a chat functionality which gives you the option to talk in real time with other players on the site. In addition you can also customize your profile, share your best bets, comment on posts, add friends or follow the members.
Responsive
The site has been designed to fit all platform types (mobile, tablet or computer) to give you the best gaming experience possible.
Automated betting
With automatic betting option, you can configure the conditions of your bets and automatically play as many games as you like without your intervention between each bet. If you are tech-savvy you can also create your own betting bot to connect with the Bitsler API.
Robust & safe
To keep your documents safe and accessible only by you Bitsler offers two-factor authentication, SSL encryption, intrusion detection. Safety will not be an issue you have to be worried about!
Look and feel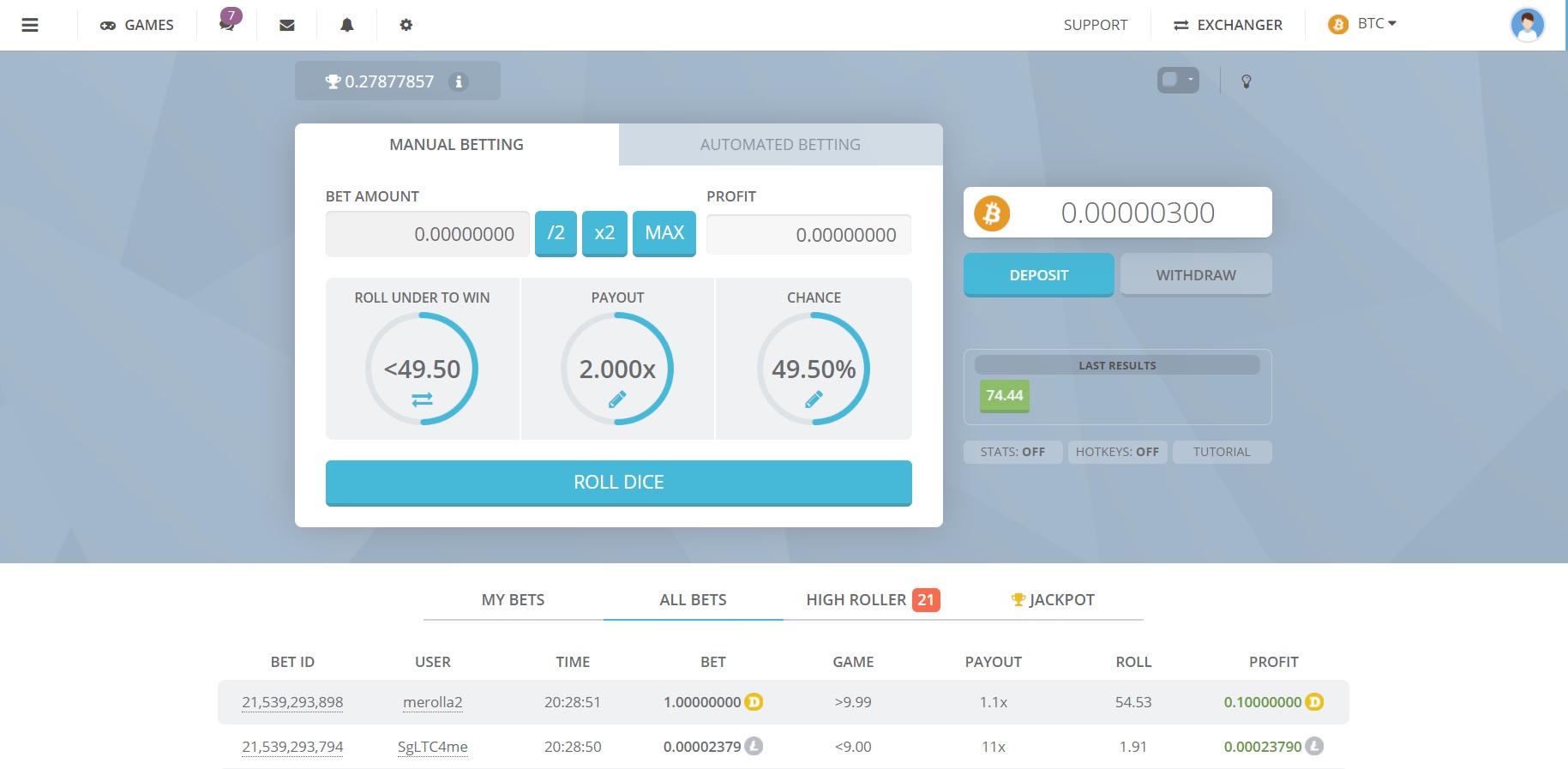 Primedice
Primedice (https://www.primedice.com) launched its Bitcoin dice gambling website in 2015 and focuses solely on the game of Dice. Their unique selling point is the industry low house edge of 1%. This industry low edge provides users a reasonable opportunity to make money unlike real money casinos which feature edges as high as 15% or more. This combined with a maximum payout of 30 BTC per individual bet makes Primedice on of the best Dice gambling sites on the internet.
Deposits
As of today Primedice accepts Bitcoin deposits and credits your deposit within 1 confirmation depending on risk. Most deposits are credited within 30 seconds.
Provably fair
Primedice utilizes the strongest possible provable fairness which means you don't have to trust the website, each roll is mathematically fair and can be verified to be manipulation free. Unlike standard gaming sites which promise true randomness and third party review, Primedice offers true fairness. Using simple cryptography you can 100% prove that each roll is completely random and honest. Because at the end of the day, why trust people when you can trust numbers?
Social & fun
Primedice works with levels and achievements. Levels are gained by reaching a certain threshold of experience for each respective level. You can gain experience by wagering coins, being active and unlocking achievements. Gaining levels provides you with a boosted faucet which provides you with far greater rewards and not to mention baller status and bragging rights in the community. The also offer English, Russian, Chinese and Indonesian chatrooms to talk to other dice players.
Responsive
Primedice is fully optimized for and playable on mobile devices. Try loading the site on your phone or tablet and roll on the go.
Robust & safe
2FA authentication is used by Primedice and ensures you are the only one with access to your account.
Look and feel